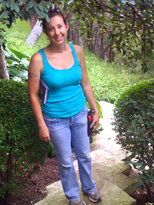 Molly Wood
Certified Arborist & Master Gardener
Molly grew up in Maine, where as a child she spent time with her mother in their rural garden, enjoying the humming bees and picking bouquets of lilacs and hydrangeas.
She graduated from Boston University where she studied photojournalism and packed her apartment windows with houseplants. She always knew she wanted to do something creative and had a love of nature, but did not put the two together until she moved to Austin in 2001.
She met her husband Jonathan, and between her newfound love for Austin and him, she decided to make Austin her home.
The climate and native plants of Austin were a complete change from New England, so Molly spent a decade immersing herself in Austin's gardening climate, learning about native plants, what grows best in the soil, and what can withstand the unique Texas weather.
Most recently, Molly spent 5 years working at Gardens in Austin and learning landscape design aesthetic under the careful tutelage of landscape architect James David before deciding to join forces with Jonathan and create a different kind of gardening company that emphasizes responsible yet beautiful gardening.
Now, she uses her love of art and photography to design gardens that create a sense of space that feels like an extension of a home or business.
When not gardening, she loves playing with her 7-month-old son, Oceanus, and spending time with Jonathan and their 9-year-old blue healer, Addie.
Certifications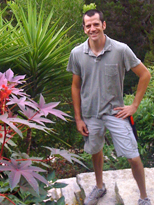 Jonathan Wood
Licensed Irrigator, 17126
Jonathan is one of those rare few who was actually born and raised in Austin, Texas. He has always loved the diverse and natural beauty of central Texas, the water and being outdoors. He's explored every greenbelt trail and creek and spent as much time on the lake as possible.
Jonathan spent time in the restaurant industry for many years before deciding to follow his dreams and get outside! He became a Licensed Irrigator in 2009 in support of his goal and he is an expert in irrigation installation, repair and design solutions.
He loves the challenge of working with Austin's native environment and using water as efficiently as possible to create beautiful, responsible gardens.
He likes to spend time in the greenhouse propagating succulents and experimenting with plant growth and design. His vegetable garden has become his own personal hobby and he takes great pride in not only its diversity but the amazing dishes he's been able to create from it. His latest additions to the garden are purple kohlrabi, watermelon, and radishes.
Jonathan is crazy about his family including son, Oceanus, his wife, Molly, and of course their blue heeler, Addie. When he's not keeping Austin beautiful, he's shore fishing in Galveston.
Certifications